Congratulations,
You've reached Ed and Valerie Midgett's homepage.

---
Here is our FAMILY REUNION WEBSITE we had in Nags Head for MOM AND DAD's 50th WEDDING ANNIVERSARY.

---
HaPpY BiRtHdAy kAtRiNA!!!! Go here for a flash BiRtHdAy movie
-get the plug in if you can't see it.
---
HaPpY BiRtHdAy Mom!!!! Go here for a flash BiRtHdAy movie
-get the plug in if you can't see it.
---
---
Well- We got a new car to replace Ed's 81 Toyota Corolla- which was totaled when he got hit by a car. You can see the pictures here.
---
Here are some pix from Vienna-including some of vals performance-and some of me batching it in munich-and some of both val and i in berlin. new as of June 2, 1999. only a few days left.we might send some from amsterdamn or paris if we get the chance-went to the berlin wall-what was left and got some great pictures.
---
---
Here are some more pix from venice. this is all new as of 5-27-99. more in the email message. hope to upload more in next 2 days.
---
---
Here is our new photoalbum from Paris, St. Raphael, Cannes and a little of Venice where we are sitting in an expensive cafe sending this memo. More in our e=mail message. 5\20\99.
---
---
---
Here's the Complete Itinerary for our trip to Europe this summer. We'll be gone from May 13-June 6th.
You will find pictures from our trip posted here later (i hope). We will email you when to check for updates while we're on the road.

In the meantime- Check out the photo's from Valerie's garden here
---
Here's some more pictures of Val working in the garden
(me trying out my new camera) here
---

You can leave us a message on our answering machine here.

We won't be checking e-mail while we are gone so this is the only way to get in touch unless you call us.
Pllleeeezzz leave us a messgage. . . We love to hear from you and know someone is actually looking at the pictures.
---
You can read other people's messages to ed and val here. (if you have the password-you snoop!!)
---
You can always find Ed's homepage and Val's Dance Company- Xfactor's homepage at these links.
---
---
Don't have the weather in Boone-but here's the weather in
Asheville, NC

SAT
Partly Cloudy
Hi: 68°F
Lo: 54°F

SUN
Rainy
Hi: 69°F
Lo: 50°F

MON
Rainy
Hi: 60°F
Lo: 41°F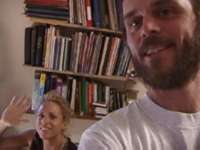 ---
EMail to everyone on our List
which right now consists of Arlo, Daryl, Mom and Dad,Walt and Val, Katrina and Jim and Brittany, Jake and Kaitlyn, and Lynn and Nancy, and Mariah, who is now online (onyortoz@hotmail.com) Heyy Mariah!!!.

THIS IS RECENT AS OF 10/20/01

If your browser doesn't support email- you will have to copy and paste from the following listserve addresses:
midgettae@appstate.edu, lnmidgett@aol.com, a_midgett@hotmail.com, jfshinn111@msn.com, jsacm1@acad1.alaska.edu, damidge@swbell.net, amidgett@tampabay.rr.com, WALT3260@aol.com, onyortoz@hotmail.com, sarcism@webtv.net, valerie@xfactordance.org, ed@edmidgett.com

If you were referred to this site and would like to receive updates, just leave us a message above.